One of Italy's Most Colorful Races
Built on the slope of Mount Ingino and crossed by the Camignano stream, Gubbio is a magnificent Medieval Umbrian city full of history and monuments that have always fascinated illustrious travellers and authors the likes of Gabriele D'Annunzio and Hermann Hesse, according to whom the city "produces an absolutely stunning effect and has something unreal and perturbing about it".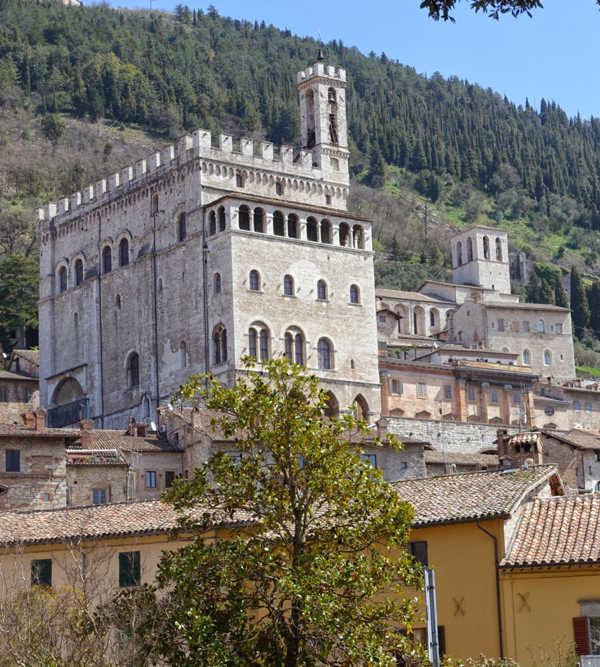 A tour through charming Gubbio absolutely has to start from the magnificent complex of Piazza Grande (end of the 15th century), also known as Piazza della Signoria , which encompasses the public palazzi and former seats of the two civilian magistracies – Palazzo dei Consoli, a majestic Gothic building completed around 1340 and home today to the Museum Civico, and Palazzo del Podestà, now the premises of the Town Hall. It is also the site of the Ducal Palace, which was built by Francesco di Giorgio Martini for Federico da Montefeltro. The 6 gates leading out of the city are also worth seeing. The wall was built at the end of the 13th century and is nonetheless intact. Some of the gates still have fragments of painted decorations, the city's coat of arms and even its old wooden doors.
La Festa dei Ceri ( the race of the candles) takes place every year on May 15th on the eve of the feast of the city's patron saint, St. Ubaldo. The statues of St. Ubaldo (patron of bricklayers), St. George (patron saint of haberdashers) and St. Anthony the Abbot (patron saint of donkey breeders and peasants) are placed on 3 tall, heavy wooden ceri or pedestals (meant to represent candles). Carrying these enormous ceri on their shoulders, the young ceraioli (pedestal bearers) race down the city streets and then up to the basilica of S. Ubaldo on top of Mount Ingino.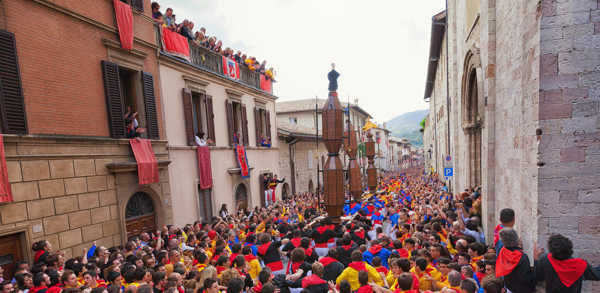 A charming ritual precedes the race. The spectacular raising (the alzata) of the ceri takes place in Piazza Grande at noon and then the ceri are toured around the piazza 3 times. After being displayed in the city streets, they are placed in Via Savelli until it is time for the race. A procession with the statue of St. Ubaldo takes place in the afternoon and travels to the end of Via Dante, where the bishop blesses the ceri. Then the race starts down the city's main streets. Once the ceri are back in Piazza Grande, they tour around it 3 more times and end up in front of Porta dell'Angelo (gate) where the ascent up Mount Ingino begins.

The ceri are stored in the basilica of Sant'Ubaldo, while the statues of the 3 saints are brought back into the city amidst singing and a torchlight procession. The origins of the feast may date back to propitiatory rituals for the spring, but only its Christian and celebratory nature honouring St. Ubaldo is historically proven in documents.